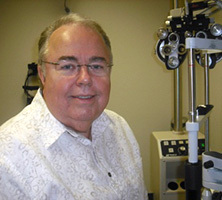 Karl M. Larsen, O.D.
Dr. Karl graduated from Rancho High School and considers himself an "almost native" Las Vegan. He attended Brigham Young University, University of Nevada Las Vegas, Los Angeles City College and graduated from the Southern California College of Optometry in 1967, with a Bachelor of Science and Doctor of Optometry degrees. Dr. Karl was a teaching assistant at UNLV and a clinical instructor at Southern California College of Optometry before entering into private practice in North Las Vegas. He enlisted in the U.S. Army in 1968 and was the Asst. Chief of Optometry at William Beaumont General Hospital in El Paso Texas and staff Optometrist at McAfee Military Hospital at White Sands Missile Range. After leaving the military in 1970 he returned to Las Vegas and began his solo practice of Optometry.
Dr. Karl has been involved in his profession and the community. He served on the board of the Chamber of Commerce of North Las Vegas and was King Lion of the North Las Vegas Lions Club. On a local level he has been the President of the Southern Nevada Optometric Association, Vision Service Plan Nevada and the Nevada Optometric Association. He has served on the national level as a member of the American Optometric Associations Eye Care Benefits Center, and as the Chairman of the Board of Vision Service Plan National. Currently he serves as the President of Professional Eyecare Network of Nevada, a managed care group.
Dr. Karl's avocation is Signature Productions, a local community theatre company he founded 20 years ago. Not only does he act and sing he is the Executive Producer of all the Signature productions. You can access his theatre background and find out what the production company is doing by going to www.signatureproductions.net. Please come and enjoy good live musical theatre.
Dr. Karl offers full scope Optometric care. He is Board Certified in the diagnosis and management of ocular diseases, including Glaucoma. His practice includes pre and post operative care for cataract surgery, pre and post operative care for Lasik surgery, eye health examinations for Diabetics, specialty contact lenses and any type of eyewear. The doctor provides eye examinations for children over 4yrs, teens and adults of all ages. Dr. Karl accepts most insurance plans.
Dr. Karl has been married 40 years and has six wonderful children and 7 lively grandchildren.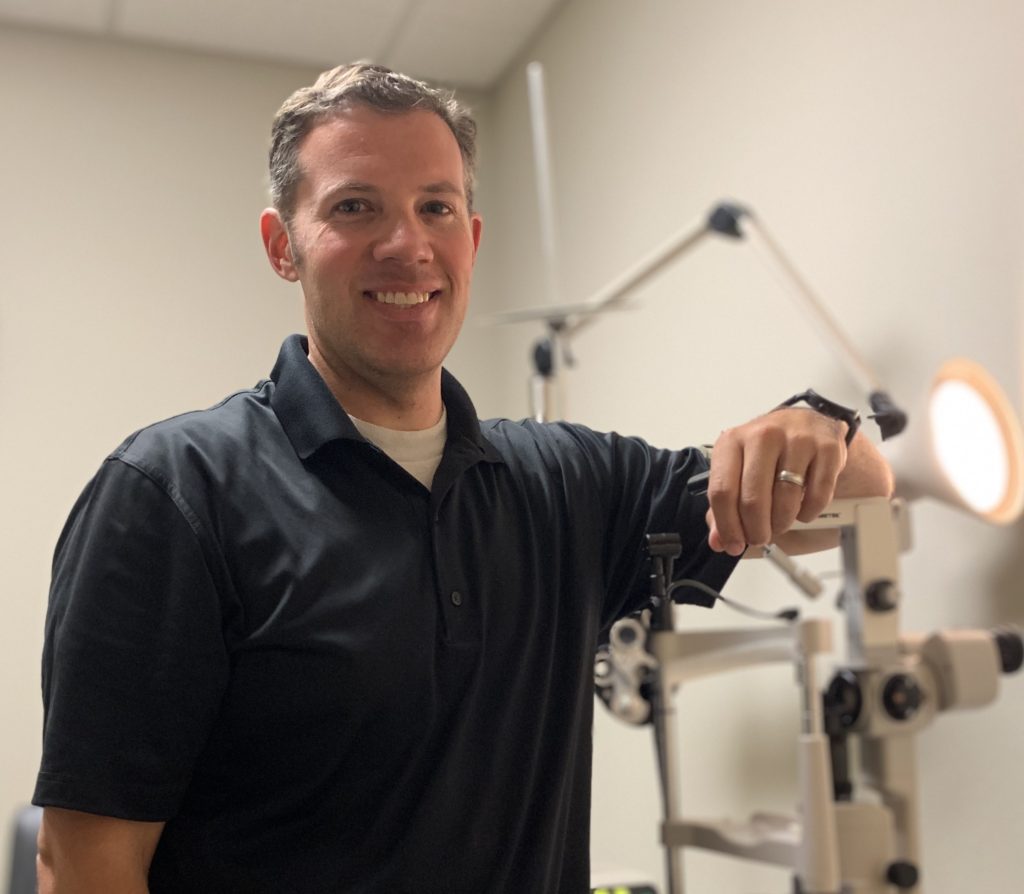 Neil K. Dickerson, O.D.
Doctor Neil K. Dickerson is a native of Southern California.  Born and raised right on the coast in Carlsbad, he is an lover of all things related to the beach and ocean.  After graduating with honors from Carlsbad High School, he studied at Brigham Young University in Provo, UT.  Dr. Dickerson graduated from BYU with a BA in History and a minor in German.  He attended graduate school at the Southern College of Optometry in Memphis, TN.  During his studies, he was a member of the Beta Sigma Kappa honor society.  He was awarded his doctorate degree in 2011 and began practicing optometry in Las Vegas later that same year and has been here ever since.
The "loves" of Dr. Dickerson are his beautiful wife Brook and his four children: Brady, Kasey, Andolyn and Tanner.  He also enjoys sports of all kinds; most notably basketball, golf, snowboarding and mountain-biking.  His favorite part of optometry is interacting with patients and getting to know them on a personal level in order to help improve their vision in all facets of their lives.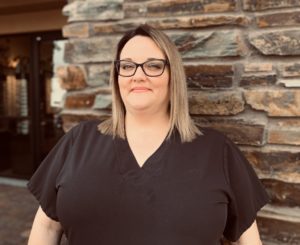 Suzanne – Biller/Front Desk/Admin/Optician
Suzanne, Las Vegas native, has been taking care of Dr. Larsen's patient for over 16 years. Although you will primarily see her smiling face at the front desk answering phones and checking in patients; she does often help out in the lab dispensing glasses and doing frame adjustments. With over 22 years of optical experience, she is considered our insurance specialist and all around helping hand. On a personal note, Suzanne's passion is singing. She performs in various choirs in the Las Vegas community and frequents as a soloist for various events.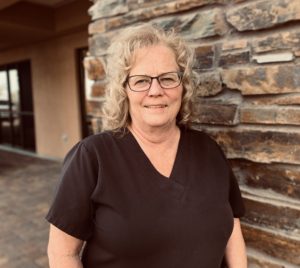 Kris – Optician
Kris, Optician, is a mother of two and a grandmother of two as well. She is originally from Eastern Idaho before moving to Las Vegas 30 years ago. She has been with the company for 15 years and has enjoyed working alongside Dr. Karl and Dr. Dickerson. Majority of her day is designated to helping patients select the best glasses as she is the forefront of our optical department. You can also catch her in our lab checking in orders to ensure the best quality and adjusting frames. She specializes in frame selection, lens options, and insurance benefits. In her spare time Kris enjoys spending time with her family.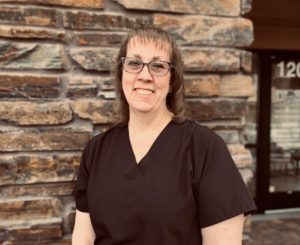 Janie – Technician
Janie, our office Technician, is originally from Coeur d' Alene, Idaho. She started working with Dr. Karl in March of 2011. As the Technician, her primary responsibility is assisting the doctors in patient care; including patient work up for exams and specialty testing for glaucoma and contacts. Janie is a mother of 3 adult children who take up a lot of her down time. When she isn't spending time with family, she enjoys making lap blankets, hats, and matching scarves for the homeless teen shelters.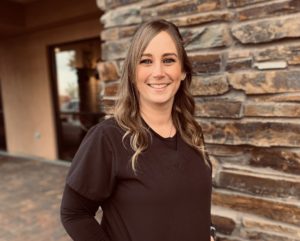 Camille – Technician/Front Desk
Camille, a Las Vegas native, joined us in 2018 and is our newest member to the team. Her primary role is Technician; assisting the doctors with patient care and testing, but she is also able to assist with front desk and optical tasks such as checking patients in and frame selection. Outside of work, Camille spends her time with her 2 children and  shares her passion as a soccer enthusiast. 
Accepting New Patients
See better today!  Call us at 702-790-2400 or contact us online.